Since 2001, Entergy has operated under voluntary commitments to stabilize our CO2?emissions as part of our efforts to be environmentally responsible and manage risks related to potential federal legislation of emissions.
According to the 2019?Benchmarking Air Emissions Report, Entergy is the sixth-largest of the top 100 power producers. At the same time, Entergy ranks sixth in the production of zero-emitting energy. Entergy's CO2?emission rate is the fourth lowest among the top 20 privately owned and investor-owned power producers. For more details on how Entergy compares, see the charts below:
Our current commitment is to maintain CO2?emissions from Entergy-owned power plants and controllable power purchases through 2020 at 20 percent below year 2000 levels. Through 2018, our cumulative emissions were approximately 8 percent below our commitment level. Learn more on our?Clean Generation page.?
Looking ahead, Entergy has announced a new emissions reduction goal for 2030: Entergy will reduce its emission intensity by 50% from our 2000 level by 2030. Emission intensity is measured by the pounds of CO2 produced per megawatt hour. This means that for every unit of electricity Entergy generates, we will emit half the CO2 that we emitted in 2000.? Learn more in our new climate report here.
Entergy has a long history of investing in innovative projects that reduce emissions. We believe the electrification of sectors that traditionally use fossil fuels is not only necessary to reduce economy-wide emissions but also presents an opportunity for Entergy to partner with regulators and key stakeholders on policy and incentive options to encourage adoption of electric vehicles. Entergy has taken these actions to support electrification:?
We presented grants to 16 colleges and universities in our region to help fund the installation of 17 240-volt electric vehicle charging stations.
We established the Power Drive program to purchase electric vehicles and install charging infrastructure at Entergy facilities.
We presented a grant to Tulane University to help fund the purchase of electric shuttle vehicles, allowing the university to retire several internal combustion vehicles.?
Also, in recent years we've worked with the Louisiana Clean Fuels Coalition and others to open an alternative fuel vehicle training center in Louisiana to promote the use of alternative fuel vehicles, such as electric and compressed natural gas. The nationally certified Automotive Technology Center at Baton Rouge Community College is a $25 million state-of-the-art training facility that offers an alternative fuel certification for students in its automotive technology and diesel heavy-truck technology programs. Other innovative emissions-reducing efforts include?IdleAir truck stop electrification technology?and incentives for agricultural customers to?convert diesel irrigation pumps to electric.?
To submit an environmental improvement project for consideration of funding through Entergy's Environmental Initiatives Fund,?click here?for the request for proposals. For a history of projects funded through the EIF,?click here.?
Biodiversity and Habitat Restoration
Entergy's goal is to fully comply with all environmental regulations, including those that govern wildlife conservation, as stated in our Commitment to Biodiversity. We aim to be a good steward of the land, wildlife and natural resources in our care, which includes actions to maintain, enhance or conserve biodiversity. We strive to eliminate negative impacts from our operations on biodiversity and promote a net positive impact where possible. We have an avian and wildlife protection standard and an avian protection plan that promote compliance with wildlife conservation and avian protection laws.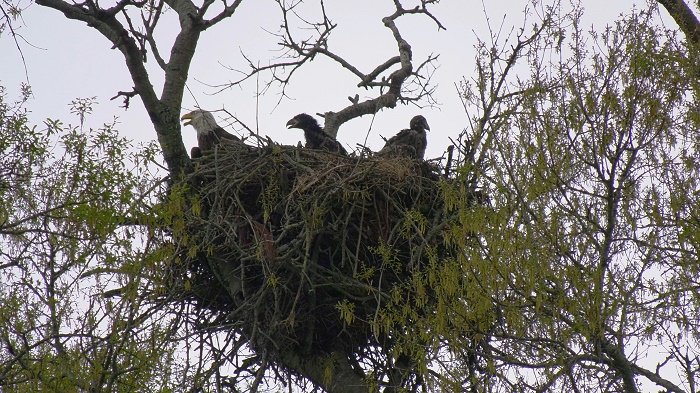 Taking Flight to Protect Bald Eagles?
In Arkansas, where Entergy generates electricity from two hydroelectric dams on adjacent lakes to the Ouachita River, the company manages the dams, lakes and shoreline. This responsibility includes management of 9,000 acres of property around the lakes.
Entergy maintains a Sustainable Forestry Program for the approximately 25,000 acres of timber land associated with our utilities' sites and facilities. Since 1996 Entergy has:?
Planted over 4.1 million trees.
Created wildlife habitat.
Addressed ecologically sensitive areas.
Participated in native species conversion.
This work led to the company's nomination for the Edison Electric Institute's National Land Management Award. The nomination recognized Entergy for its outstanding achievement in long-term timber production, wildlife enhancement, recreation, carbon sequestration banks and wetlands mitigation programs.
Many of Entergy's biodiversity programs offer net positive benefits to our stakeholders. For example, at Trinity River National Wildlife Refuge near Houston, Entergy Texas, the U.S. Fish and Wildlife Service and The Conservation Fund planted more than 45,000 trees in 2018.
Even more trees are planned for 2019 as part of the two-year initiative to restore more than 100 acres of bottomland hardwood forest. The project also supported Entergy's commitment to build a future workforce by providing funding for interns to perform all types of work at the refuge, from spraying weeds to protecting seedlings from feral hogs.
Entergy Louisiana works with a number of conservation organizations to help manage fragile, rare Louisiana coastal prairie within Entergy rights-of-way. Vegetation management and elimination of herbicide use help preserve and restore the area's natural beauty and diversity. We support grants and volunteerism, several in collaboration with The Nature Conservancy.
In 2018, projects were performed at the Roy E. Larson Sandyland Sanctuary in Texas and on the Saline River in Arkansas. Additional support was provided to TNC to acquire approximately 18,000 acres of contiguous bottomland hardwoods in the Mississippi Delta.???????????
Recycling and Waste Minimization
To address waste management and minimization, Entergy maintains a standard that outlines our basic philosophy and expectations. We reduce waste by repurposing or recycling unused or surplus material such as scrap wire and metal, by selling on-road and off-road vehicles and trailers through auctions; and by using investment recovery sales for miscellaneous stored materials deemed obsolete such as pumps, valves, electronic parts, office equipment and related items.
As part of our waste-reduction strategy, Entergy partners with our solid waste disposers to assess our current waste-management methods and make recommendations on emerging technologies and alternatives to consider. Entergy managed nearly 73 percent of our coal ash for beneficial use in 2018, which is significantly higher than the industry average. Coal ash is an excellent construction material used as fill for stabilization projects, road beds and replacement for portland cement. Excluding coal ash and hazardous waste, Entergy recycled approximately 690 tons of industrial waste in 2018.
Data on our recycling actions can be found in our?Performance Data Table.
We're also benefiting our customers and the environment by providing more online, self-service tools that reduce reliance on paper bills and communications. These transactions, which include web, text message and interactive voice response, now represent nearly 50 percent of our customers' transactions. In 2018, we met our target goal of approximately 870,000 customers opting for paper-free electronic billing, an option that not only meets customers' needs but also helps reduce environmental impacts. Electronic billing represents more than $5 million in annual operational savings versus providing paper bills.
Water Use Reduction and Conservation
Entergy follows multiple strategies to minimize our impact on water, including fleet modernization efforts using cleaner, more efficient generating sources, which require significantly less water than our legacy units.
The Lewis Creek Power Plant in Willis, Texas, is the only Entergy power plant that operates in a water-stressed area. By working with the water conservation district to optimize water use and leveraging best practices that help us use water wisely, Lewis Creek was able to exceed its water conservation goal of 30 percent water withdrawal by 2016 – a level also maintained throughout 2018. Across our operations, we protect water resources by maintaining a compliance rate with state and federal permit requirements of at least 99 percent from year to year.
We also engage with stakeholders in our local communities to find innovative new solutions related to water. We support Water Challenge 2018, an initiative presented by Propeller, a New Orleans-based nonprofit organization, which is focused on solving New Orleans' most pressing water issues through entrepreneurship.
Related performance data:?Water Withdrawn, Water Permit Exceedances.